1998 Profile
Championship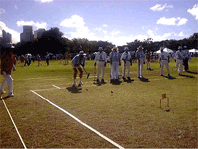 In the 7th World Gateball championship (WGC), the player of 1,300 players in November 14th, 10 am. , a total of 12 countries and regions participated and the world gate ball player right opened at Hawaiian Ala Moana Park. The first participating is 6 teams from Canada and 2 teams from Australia.

League Matches
As for the Japanese team, it is giving proper showings such as Team Watanabe Club (kanagawa Pre.), Team Umezu Art (Kyoto Pre.) by which the domestic rally including Team Greenpia Tomonokai (Iwate Pre.) of the victory has results in the past last time.
Tournament
November 15th, the remainder game and the final Tournament fight of the preliminary league series were done, the final fight became the confrontation of Team Greenpia Tomonokai (Iwate Pre., Japan) of the victory and Team Kagawa B (Kagawa Pre., Japan) last time and Team Greenpia did ream supremacy at 20 – 5.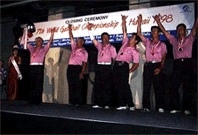 WORLD CHAMPION GREENPIA TOMONOKAI(JPN)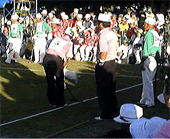 OPENING CEREMONY
November 13, 1700 people attend a formula including Congresswoman Mink and Congressman Abercrombie of the Lower House, Lt. Governor Horono of the Hawaii State, and the Consul General Ogawa of Japan as the player and the guest in a total of 12 countries and regions. It charged the way of the formula with the meaning of the welcome and the hula-hula of the child, too, was done and while harmonious, the function ended.