2010 Profile
Championship -the best eight-
Chinese teams overwhelm opposition in clean sweep!
Currently held once every four years, this year's World Gateball Championships were contested by 728 players in 92 teams from 13 countries and regions including inaugural hosts Indonesia and the Philippines, but the top three places were swept by teams from host country China. The best Japanese team was TKE (Niigata) who finished in the best eight.
The 12 courts of the venue were covered with smooth short-mown Korean lawn grass which is advantageous to long hitters, providing resistance to the roll of the balls and reasonable braking.
When I went to see the teams practicing the day before the event, I met Osaka Midori player Shiro Yoshida. "I've been watching the others practice", he said with a serious look on his face, "and China look strong. They won't be easy opponents."
In the qualifying league match lineup, there were Chinese teams on the courts of all the Japanese teams except Friend Sports (Kagoshima), Komatsushima (Tokushima), Osaka Midori, TKE and Tochigi Kanuma. The first match saw The Iwate, with players who have won this competition three consecutive times before, pitted against FUJIAN, winners of the 3rd Asian Championships. Fujian started with a 2nd gate near-right strategy, and although Iwate replied with a 3rd corner strategy, Fujian succeeded with a long slide touch to win 23-8. When the other Japanese teams about to play heard that The Iwate had lost, they braced themselves for a tough match. Kenshokai of Tokushima were playing TIANJIN, and despite the Japanese touching Tianjin's balls concentrated in the 4th corner, they were unlucky to go out of play and were eventually overwhelmed by Tianjin 5-20.
Only five Japanese teams progressed to the final tournament stage on day 2, including Shizuoka plus those who had no Chinese opponents in their qualifying league except Tochigi Kanuma. All the others were knocked out. In Round 2 of the finals, Komatsushima led Tianjin until halfway through their match, but after two successive mistakes passing through the 2nd gate their balls became bunched, and in one stroke they were overpowered by the Chinese who made a slide touch from near the 4th corner to knock the Japanese balls out. TKE defeated the formidable HEBEI LANGFANG (China) to go on to meet FUJIAN in Round 3. TKE started first, and in the middle of the match they used the received white no.10 in the 2nd corner to move the white no.2, which had passed through the 1st gate, by a slide touch closer to the 2nd gate. After it passed through the 2nd gate, a long touch by a red ball about 10m along the 4th line edge cleared out TKE's balls. This meant that TKE were overtaken and eventually beaten by FUJIAN. As a result, all four semi-final places were taken by Chinese teams, and FUJIAN kept up the momentum from their victory over TKE to beat ZHENGZHOU YONGTONG and then clinch the championship with a 15m long touch in the dying moments of the final against YUNNAN LIMING.
3rd Asian Championships Winners FUJIAN (China) Regain World Title after 10 Years
A team from Fujian Province in south-eastern China, made up of men and women aged 36 to 57. They won the 3rd Asian Championships held in Shanghai in 2000, and the following year finished third behind Japanese teams in the 6th World Games held in Akita City, Japan. In this tournament they reached the top in style, making full use of long slide touches of more than 6 meters and canons.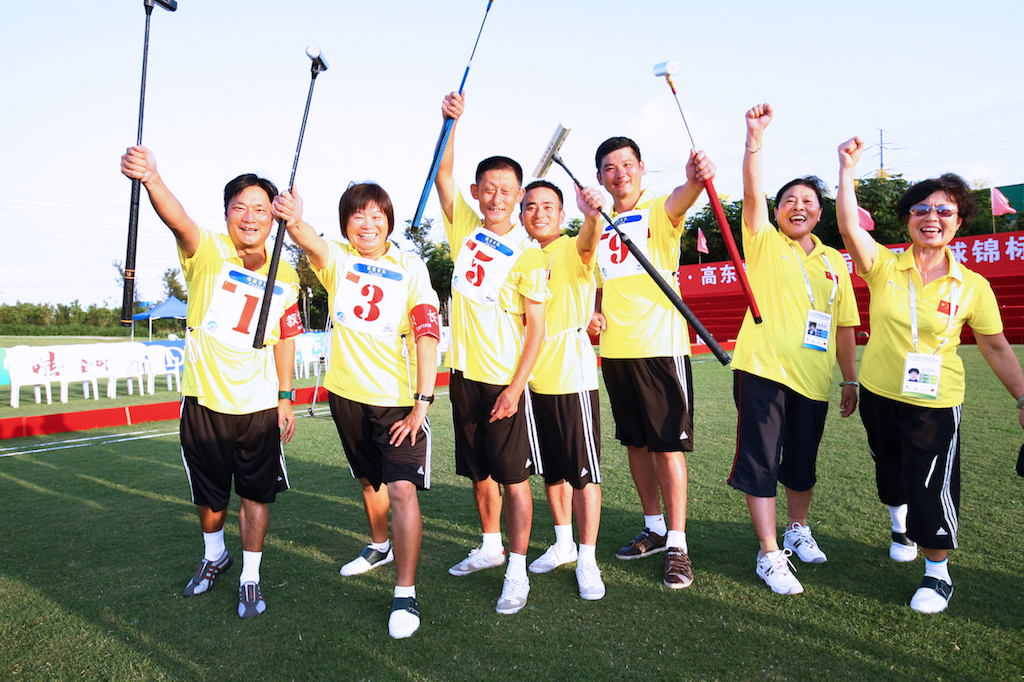 Congratulations!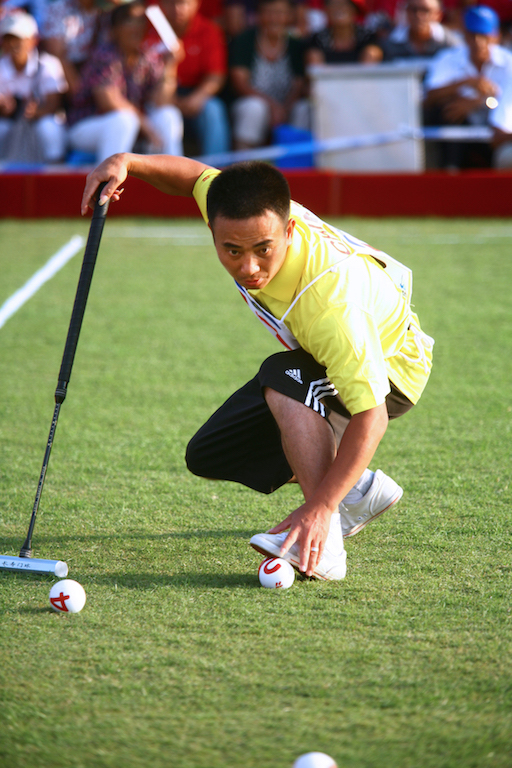 Lin Min Zhong (39) carefully setting another ball
YUNNAN LIMING(China) beat Osaka Midori and take second place
A team of agricultural workers mostly aged between 40 and 50 working at Li Ming Farm in Yunnan Province, southern China. Runners-up in the 2008 National Championships. Member Lu Lin (39) won the National Singles Championship in the same year as well as the National Doubles Championship, effortlessly using long slide touches of six meters or more.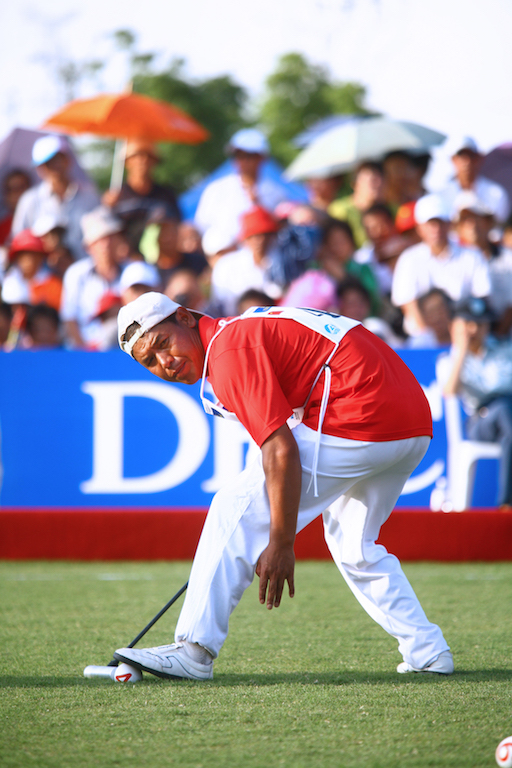 Gong Wen Li (43) checks the direction of his ball in the final
Third place
Chinese junior teams show their strength! ZHENGER PRIMARY SCHOOL (China)
A team of graduates of SHI qi zhang xi zheng er Primary School in Zhongshan, Guangdong Province, south-east China (aged 14 to 16). Gateball was introduced to the school about 10 years ago, and now the children practice enthusiastically in the school yard every day. Runners-up in the 2008 National Junior Championships. Asian City Gateball Champions in Macao in 2009. Good at hard-line tactics utilizing long touches.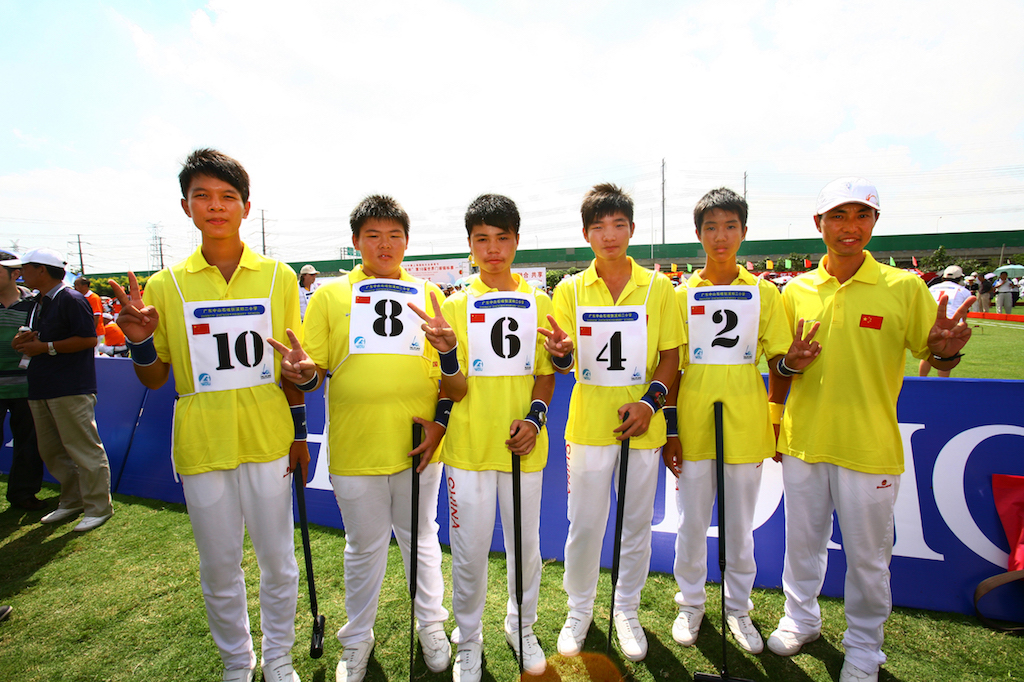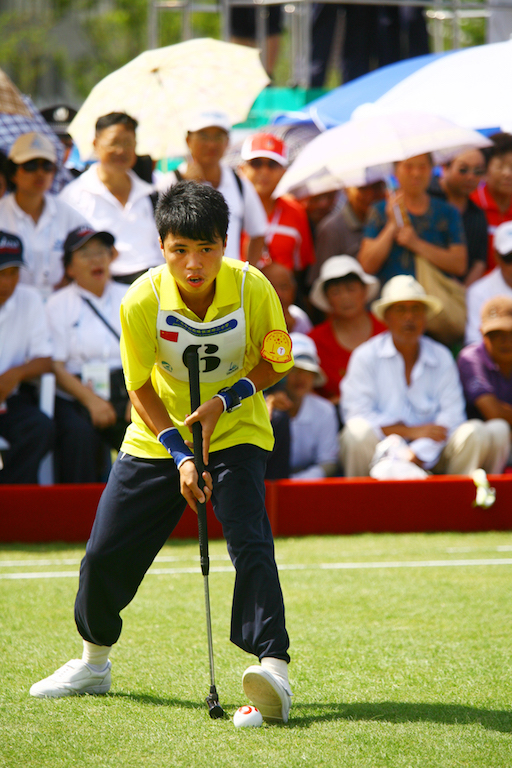 Captain Huang Jing Cheng (16) plays a spark shot using a between-the-legs swing.
Third place
Steel company team wins ZHENGZHOU YONGTONG (China)
Team of workers in their 50's from a steel company in Zhengzhou, Henan Province, central China. Despite never having won a major national title before, they shot to success in this tournament. They flexibly switched strategies such as 1st corner strategy and 2nd gate and 3rd gate strategies according to their opponents.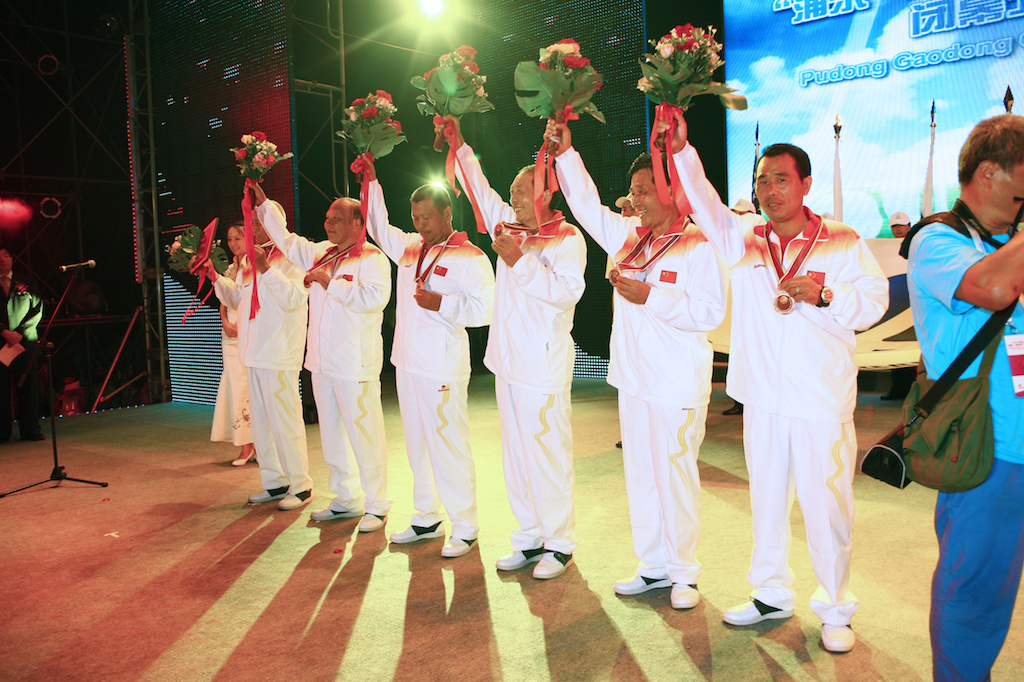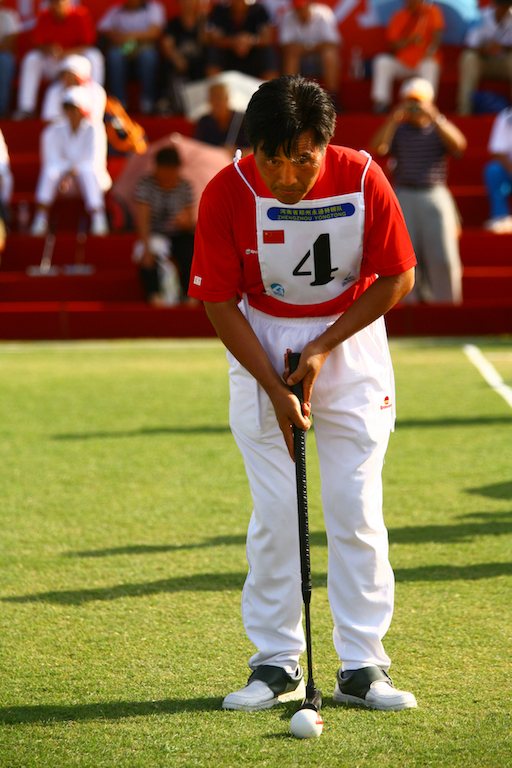 Between-the-legs swing of Hao Xun (56) with his open-toed stance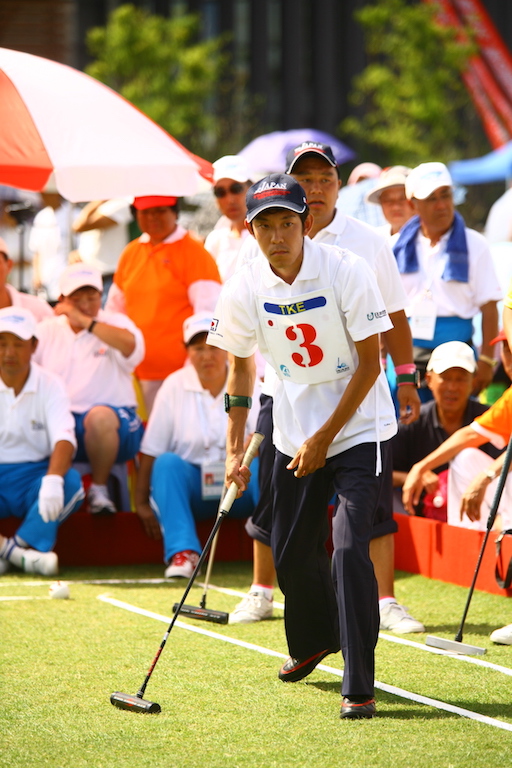 Quarter-finals
TKE (Niigata)
A team of men and women in their 30's who have played together since junior level in former Kurosaki-machi (in Nishi-ku, Niigata City). Won the 22nd Japan National Championships in 2006 and the 27th All-Japan Cross-Generation Championships in the same year. Developed attacking gateball such as 2nd line edge strategies. Photo: Yoshimi Soma (31)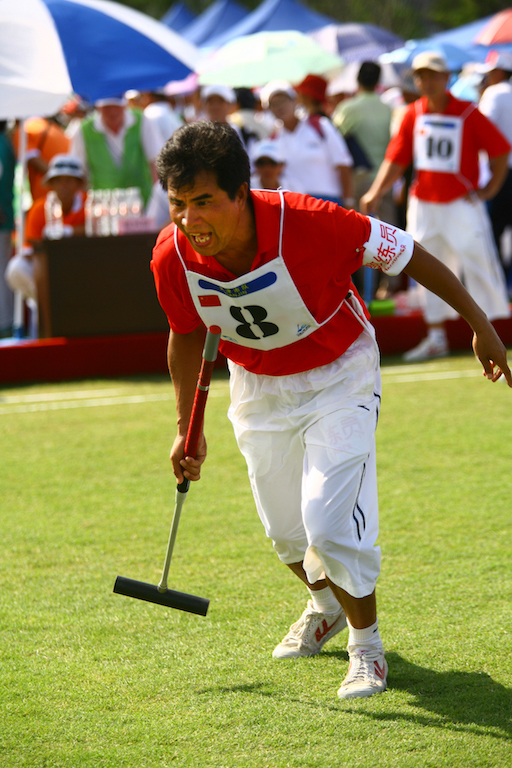 Quarter-finals
TIANJIN (China)
A team of men in their 40's and 50's from Tianjin in north-eastern China. Won the 2007 National Championships. Good at 1st gate rear tactics and hard-line tactics, they won a spirited match against Komatsushima of Tokushima and Kenshokai, Japan in this year's championships. The photo shows captain Zhu Bao Guang (46) who took third place in the 2003 National Doubles Championships.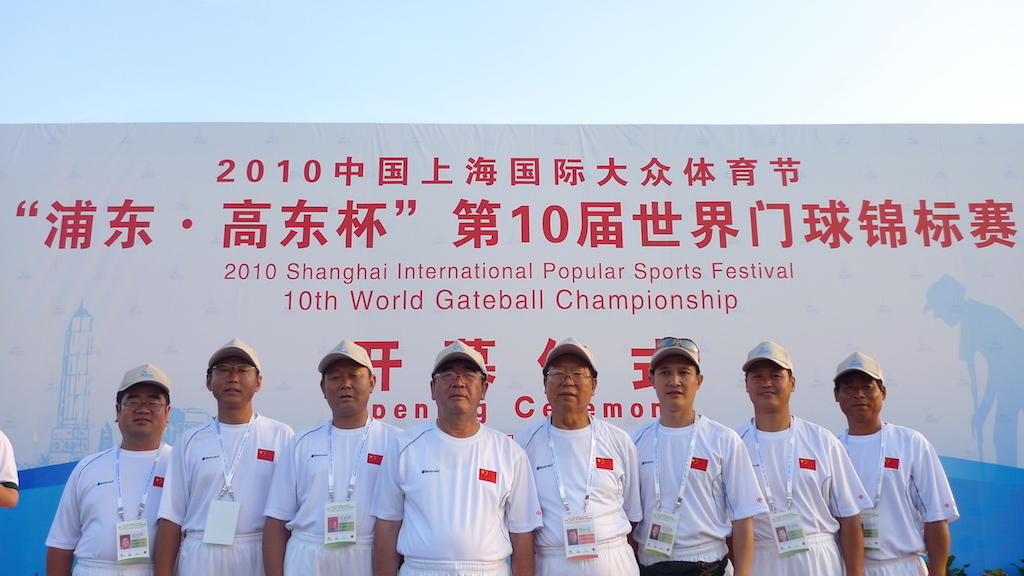 Quarter-finals
SHANXI LINFEN (China)
A team of men in their 40's from Linfen, Shanxi Province in northern China. Finished in sixth place in the 2007 National Doubles Championships and in the last four of the 2008 National Championships. Specializing in taking the field first, they won a perfect game in Shizuoka in their second game of the finals of this tournament.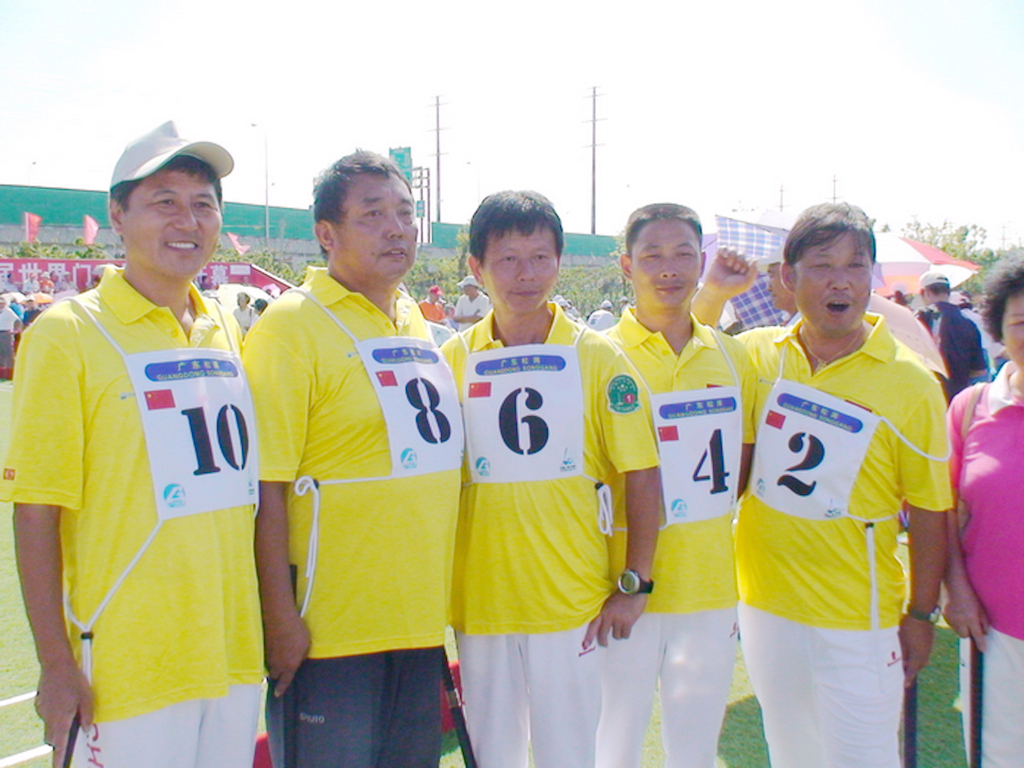 Quarter-finals
GUANGDONG SONGGANG (CHN)
A team of men aged in their 30's to 60's selected from Shenzhen, Guangdong Province along the Hong Kong border in southern China. Champions in the gateball event at the 4th China Games held this year. Good when taking the field first, they narrowly beat Nomi City (of Ishikawa, Japan) in their qualifying league.
Photo Column
How did Japanese teams other than TKE do?
Although 15 teams from Japan entered the championships, the only five that made it beyond the qualifying league stage were TKE, Komatsushima, Friend Sports, Osaka Midori, and Shizuoka, and even these were all knocked out by Chinese opposition by the quarter finals. This can be partly explained by an atmosphere in which it was difficult to keep calm, due to the absolute determination of the Chinese teams to win, the fervent support from the surrounding home crowd, and scorching temperatures of up to 33 degrees.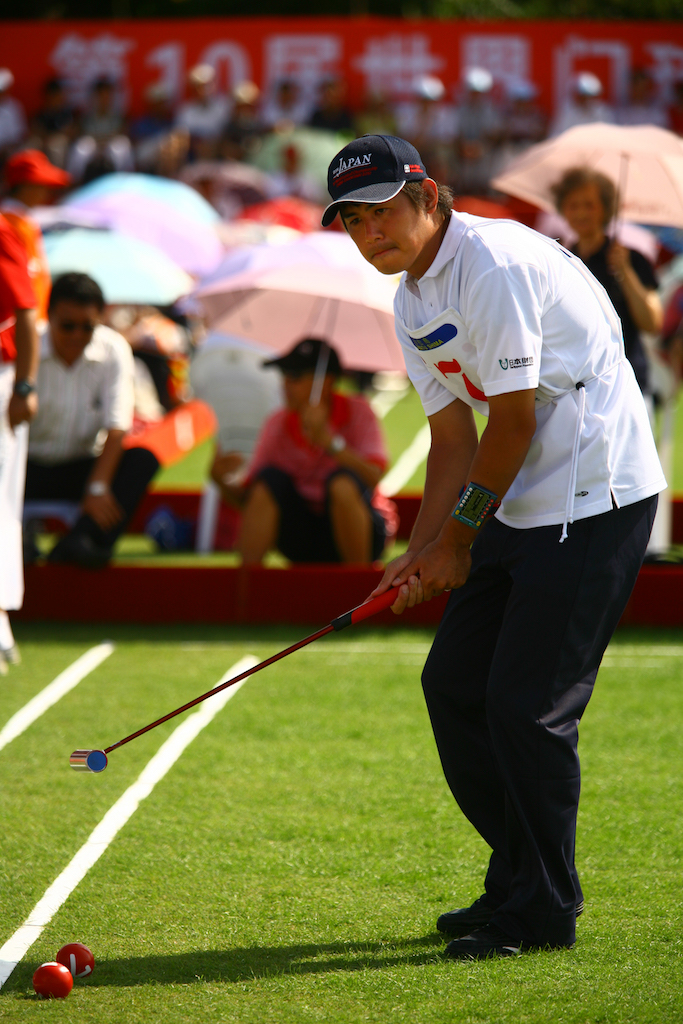 Komatsushima (Tokushima)
A team of veterans with a record that includes holding both middle-class titles of the National Invitational Tournament at the same time and winning the All-Japan Cross-Generation Championships. Entered Round 2 as seeds where they were defeated by eventual quarter-finalists Tianjin.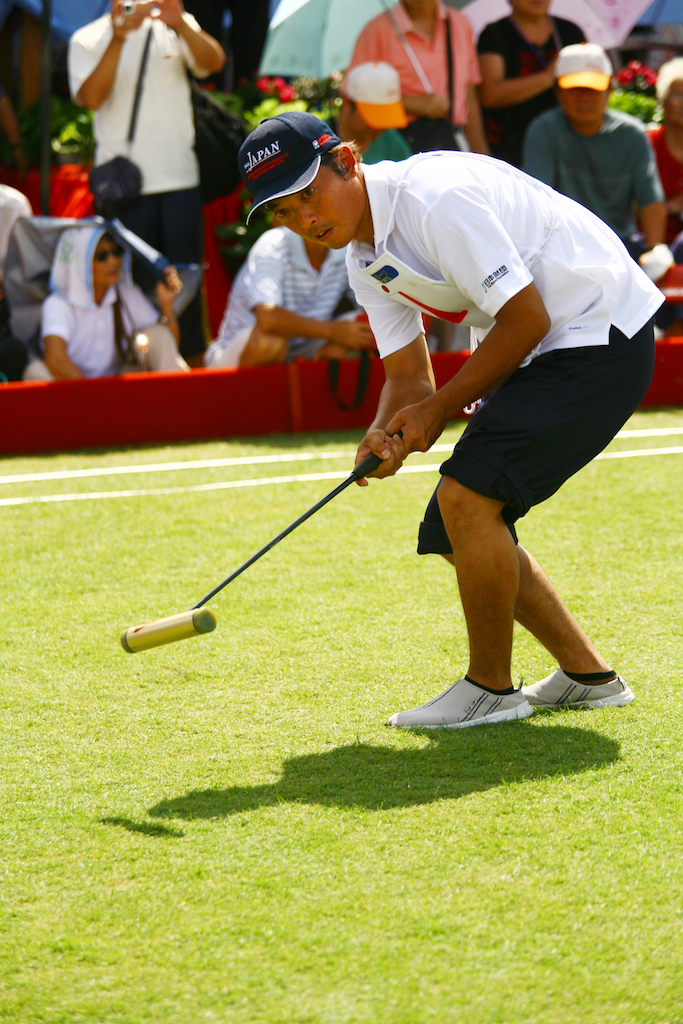 Friend Sports (Kagoshima)
Viewed as leading contenders this time having won a Grand Slam of national titles last year and the Asian Championships twice in a row, they were narrowly defeated in Round 1 by eventual third-place finishers ZHENGER PRIMARY SCHOOL.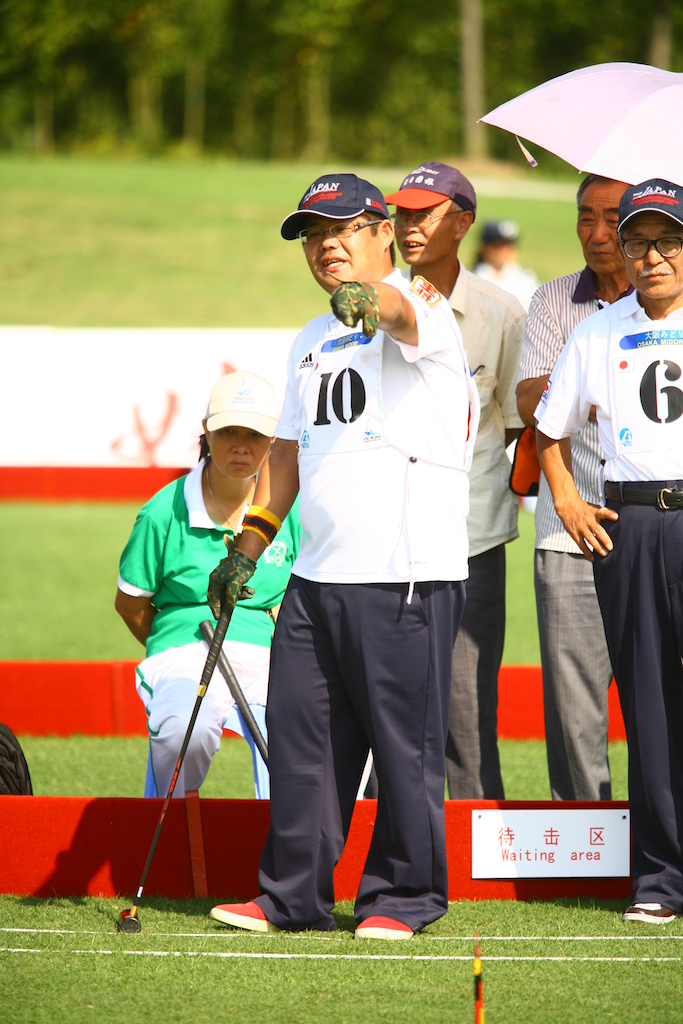 Osaka Midori
Powerful reigning champions and winners of the 19th Japan National Championships in 2003. Beaten in Round 1 by eventual runners-up YUNNAN LIMING. "Chinese touch power is scary. We just can't match them", admitted captain Akihiro Shimada (photo).
Seeking the Reason for Chinese Teams' Strength!
The reason for China's sudden leap from no successes in these Championships to victory this time is the full-scale efforts of the China Gateball Association to develop gateball skills. At the 6th World Games held in Japan in 2001, the Chinese team, which included members of the champions this time, FUJIAN, were not used to the natural grass courts and struggled on their way to defeat by the Japanese team (Kurodasho), eventually finishing third. China has worked hard since then to install grass courts at home and, under the slogan "Start playing gateball from childhood", it has built strong foundations for the sport, for example introducing an annual national junior competition. Evidence of the success of these efforts can now be seen in the 5 million Chinese people said to play gateball.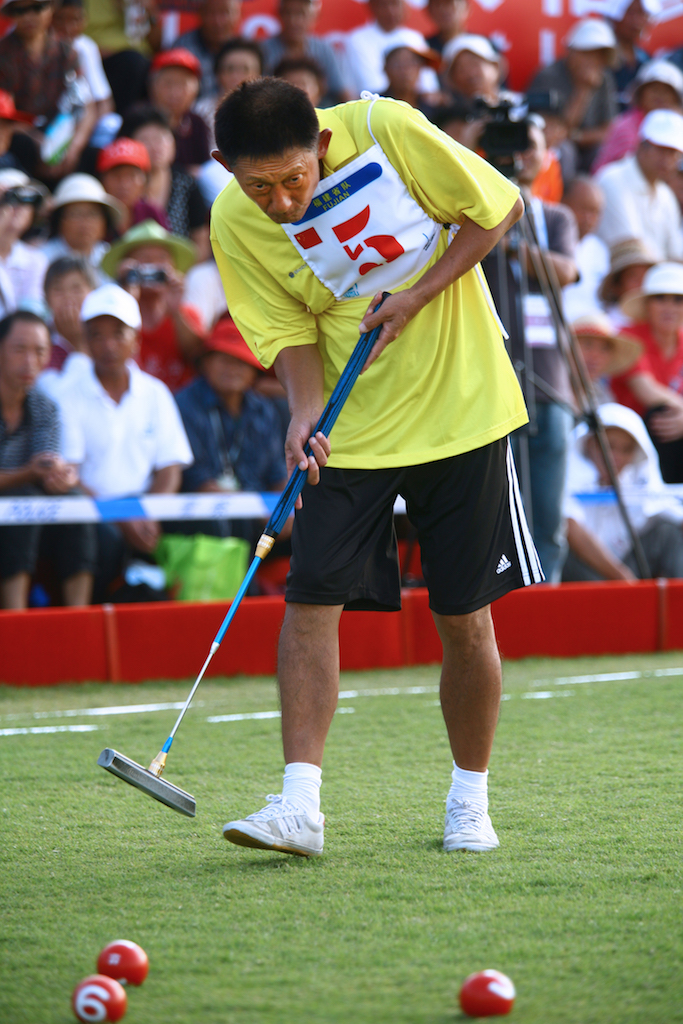 FUJIAN, defeated by Japan at the 6th World Games, gained revenge in style this time. The hitter is Zhang Wei (57).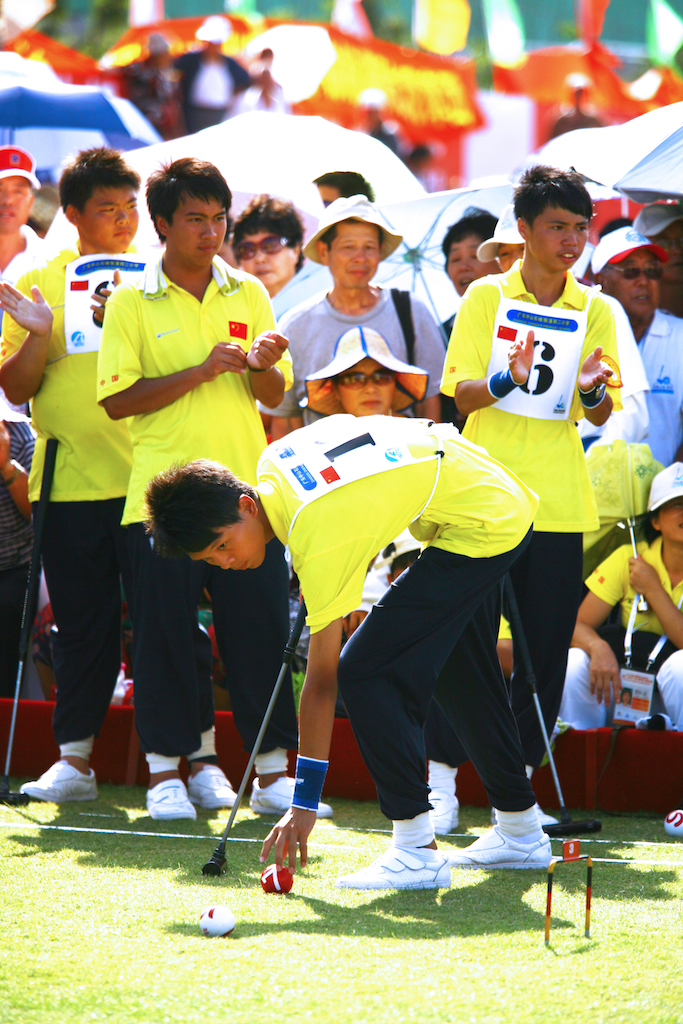 ZHENGER PRIMARY SCHOOL who won third place despite being a junior team. The hitter is Liang Jie Wen (14).
Debuts for Indonesia and the Philippines
Indonesia reached the quarter-finals of the 2nd Asian Championships in 1996 but were competing in these World Gateball Championships for the first time, entering two teams. The two Philippine teams were making their international competition debut this time.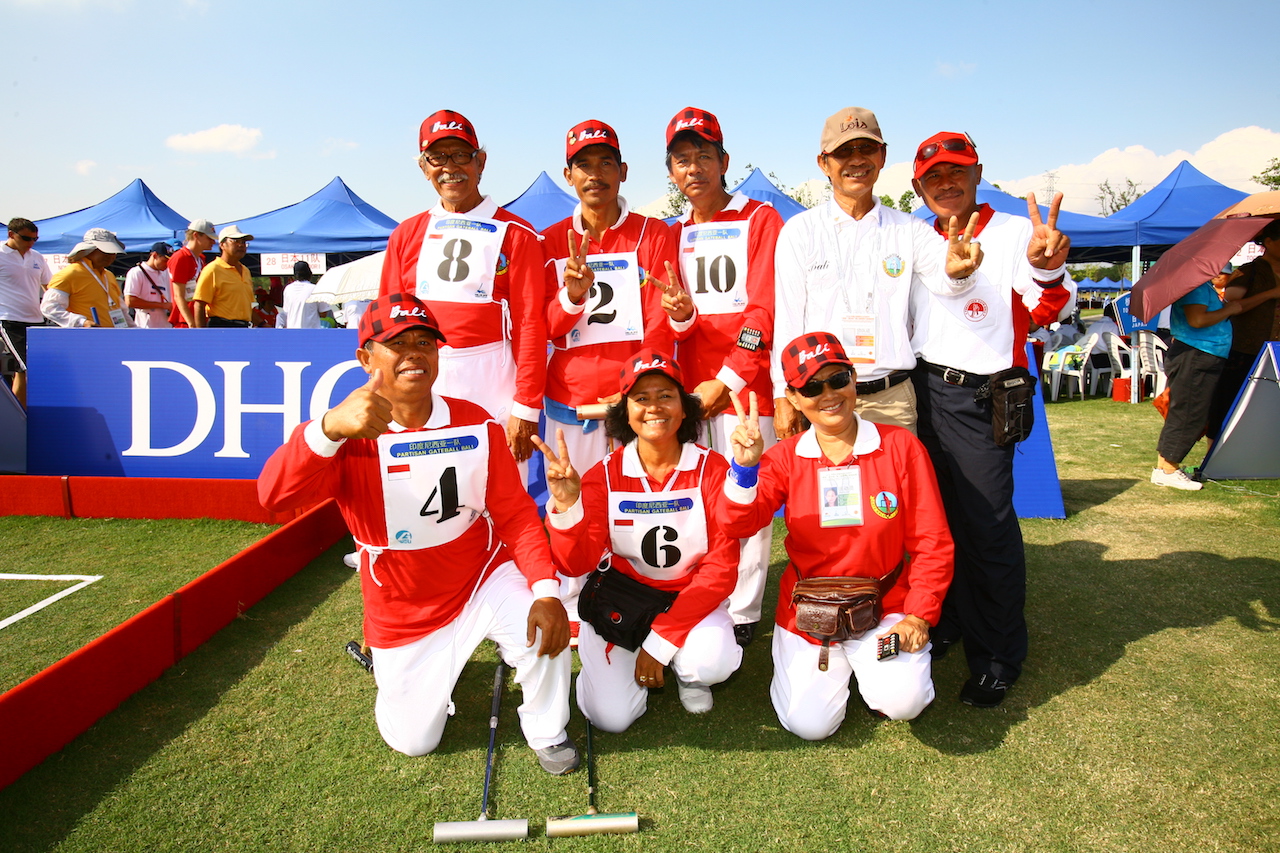 INDONESIA
Partisan Gateball Bali photographed here are a powerful team of players mostly in their 40s and 50s from Denpasar, Bali and include players who reached the quarter-finals of the 2nd Asian Championships.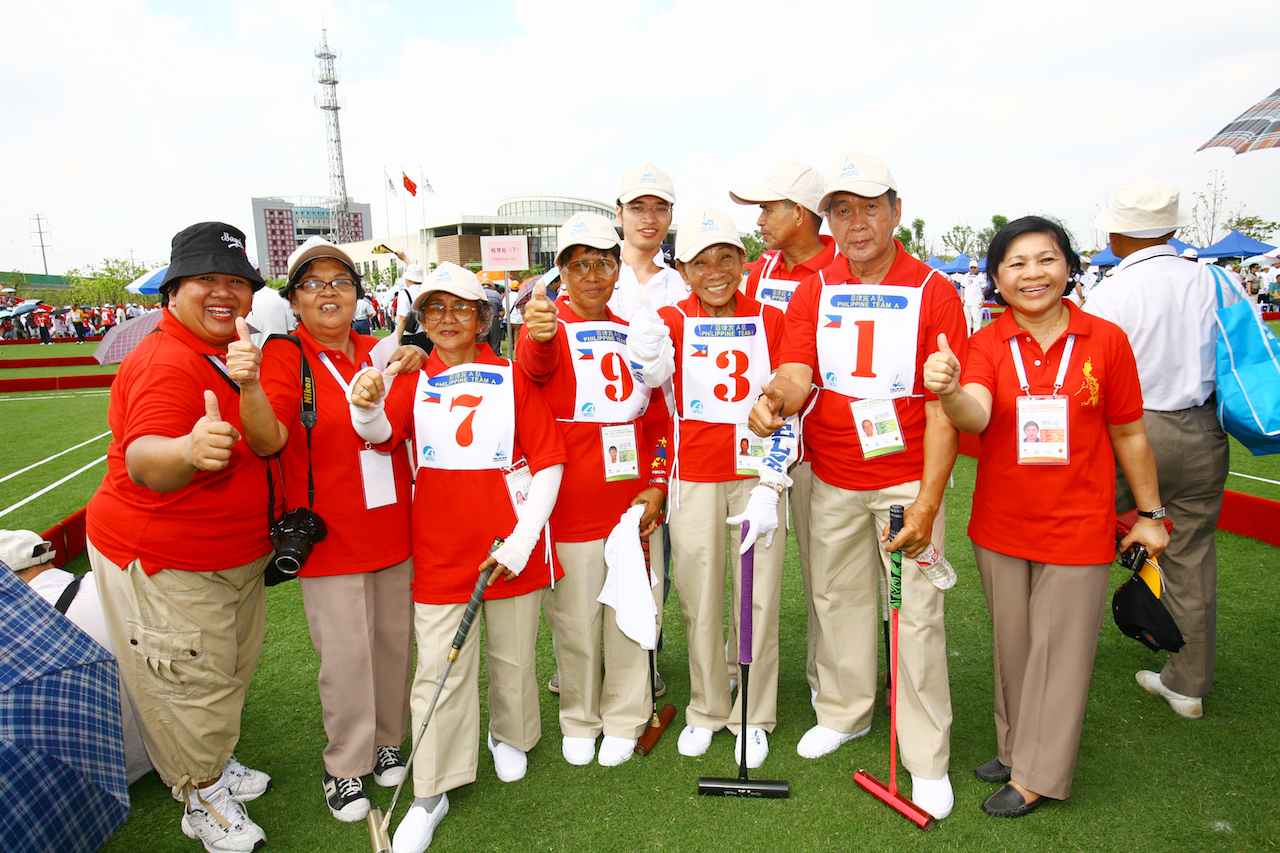 PHILIPPINES
Philippines Team A is a team composed of players in their 60s and 70s from Manila and Japanese players who have retired and moved to the Philippines.
Switzerland and Latvia, the latest countries to take up gateball, came to observe!
Gateball is becoming popular at croquet clubs in regions around Europe since last year. CERN ・ Croquet Club(Switzerland) is one such club which operates in the suburbs of Geneva, and one of its players, David Underhill, came to these World Gateball Championships to observe. "The way the top teams play is thrilling!" said Mr Underhill excitedly. "I'm going to try hard to make gateball popular when I get back home."
Also watching keenly was Roberts STAFECKIS of the Latvia Croquet Association in north-east Europe, who is also very interested in gateball. It was later reported that Mr. STAFECKIS organized the first ever game of gateball in Latvia on October 10.
We look forward to gateball spreading to other parts of Europe too.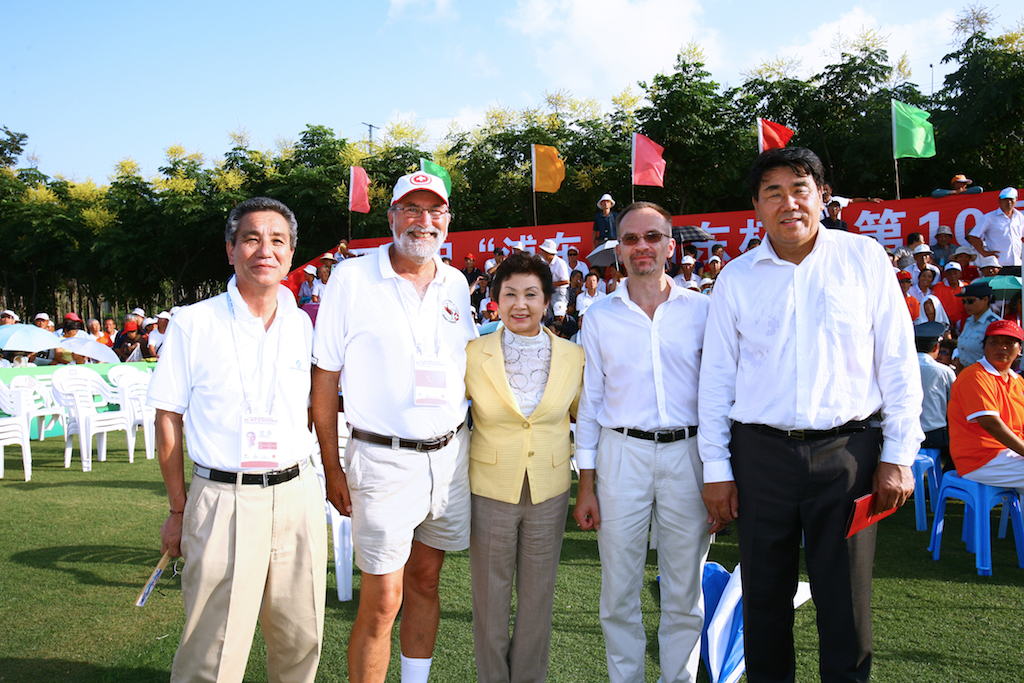 From left: Yoshihiro Endo, President of World Gateball Union; David Underhill, Switzerland; Kiyoko Ono, Chairperson of World Gateball Union; Roberts STAFECKIS, Latvia (at Shanghai competition venue)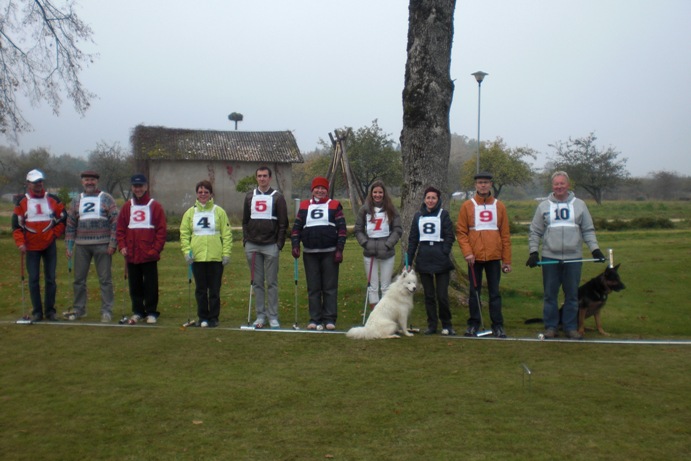 Historical moment when a gateball match was first played in Latvia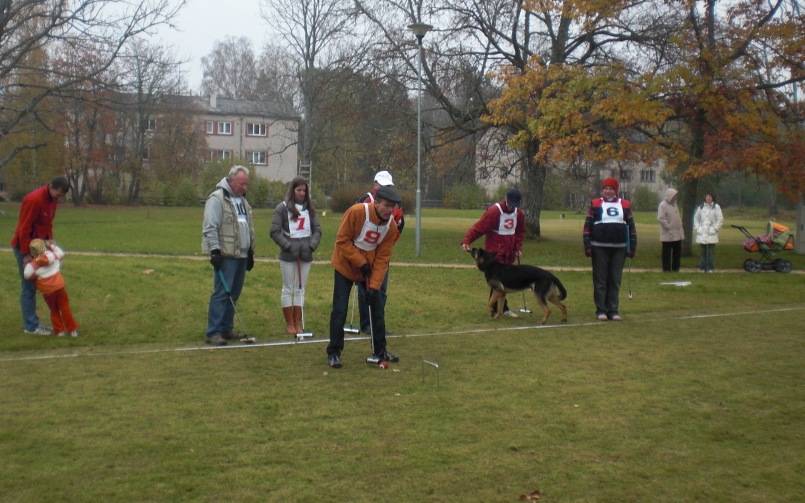 Latvian player hitting with a between-the-legs swing, influenced by croquet
Teams Popular with the Crowds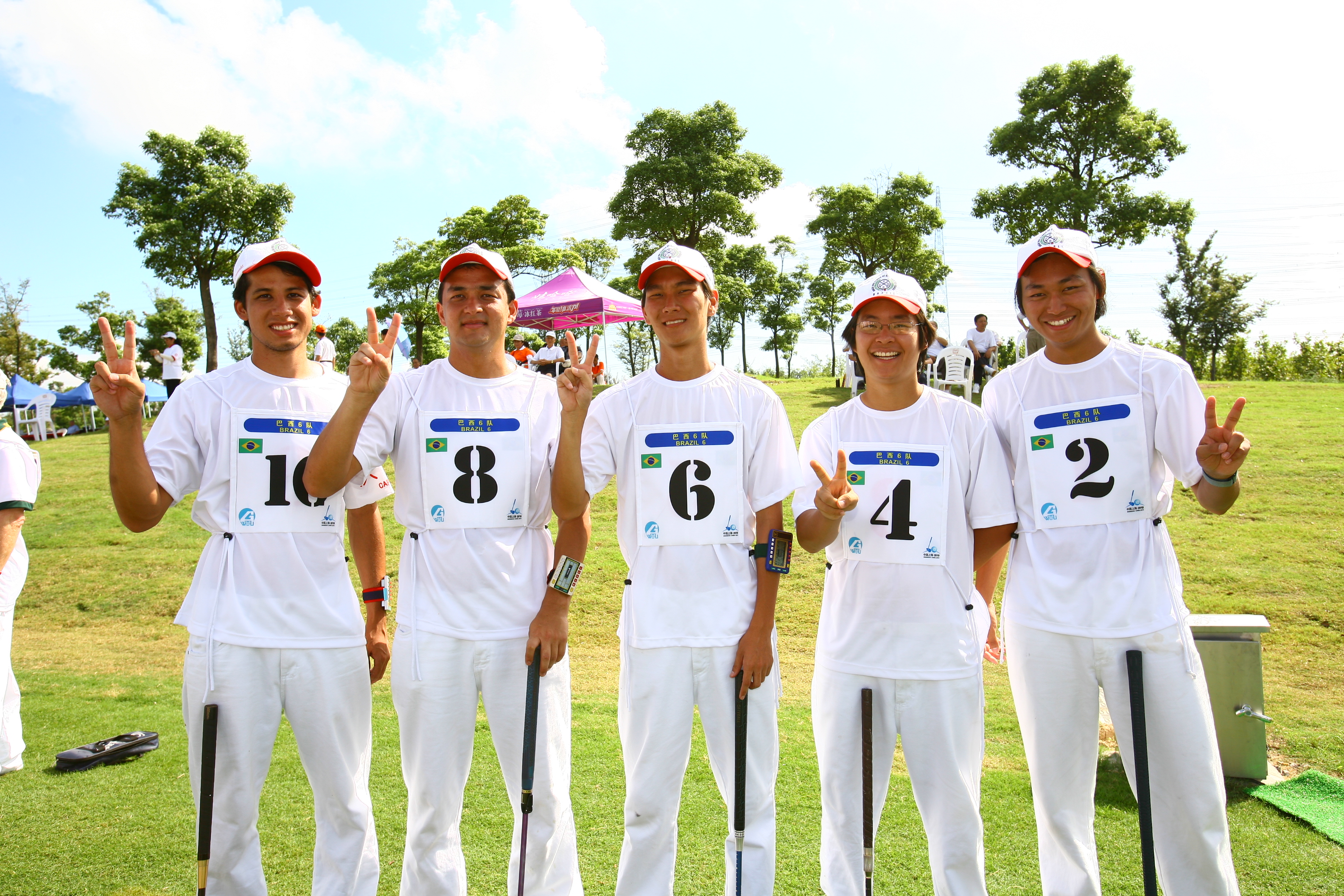 BRAZIL 6 (BRA)
A team of third-generation Japanese in their 20's. All members have been playing since childhood having been influenced by their first-generation grandparents. Won the 2000 South American Championships and the 2002 and 2006 Brazilian National Championships.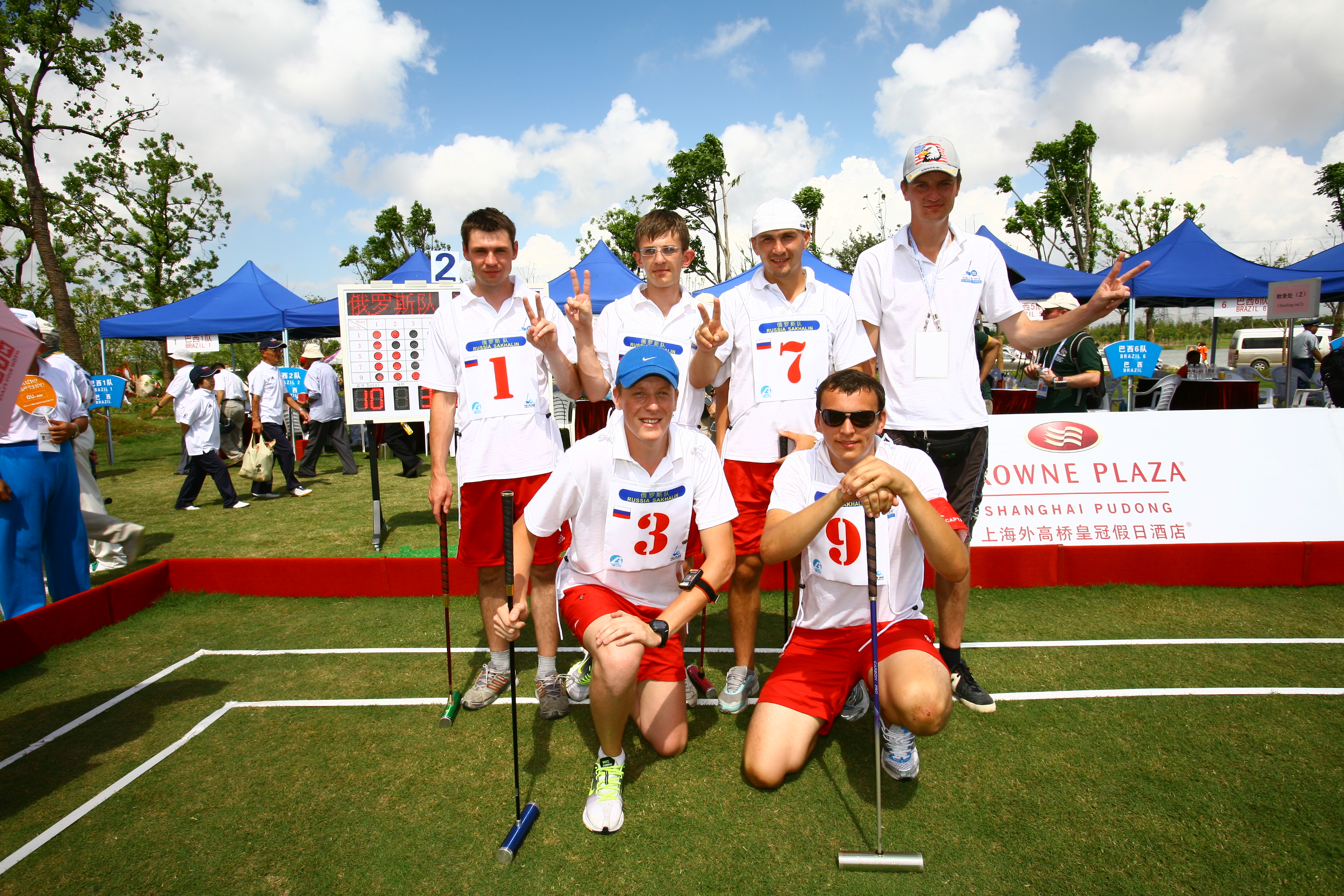 RUSSIA-SAKHALIN (RUS)
A team of men aged 18 to 26 who belong to a sports club in Sakhalin. "We want to utilize our experience at this competition in the future."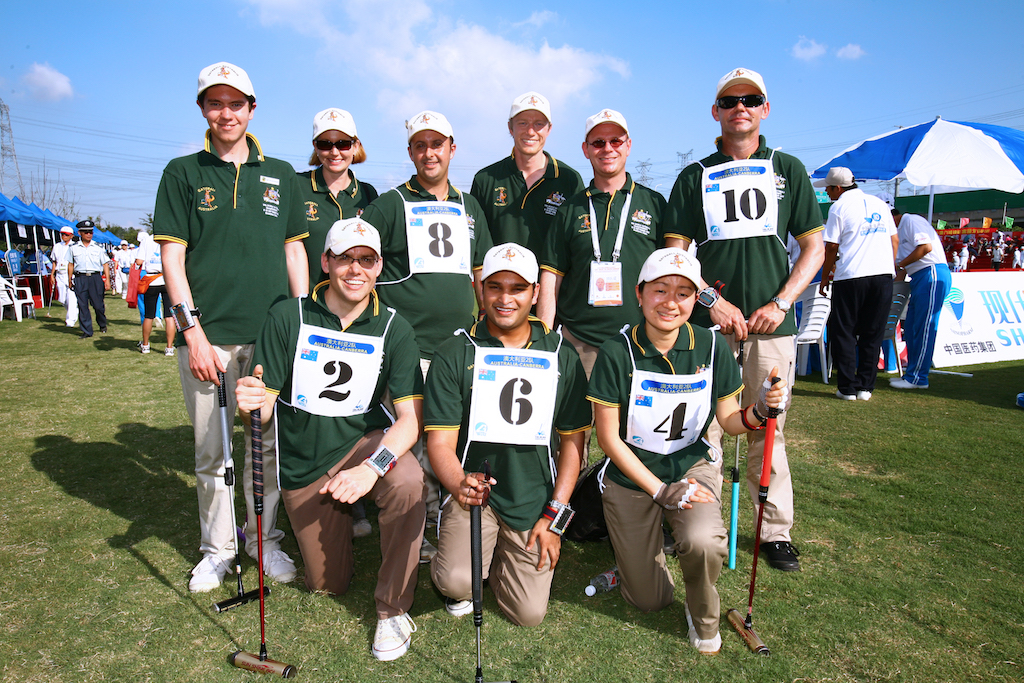 AUSTRALIA-CANBERR (AUS)
A team of youngsters from the capital city Canberra, taking part in these Championships for the second time in a row. They train on the basics twice a week. Have won the Australian National Championships twice.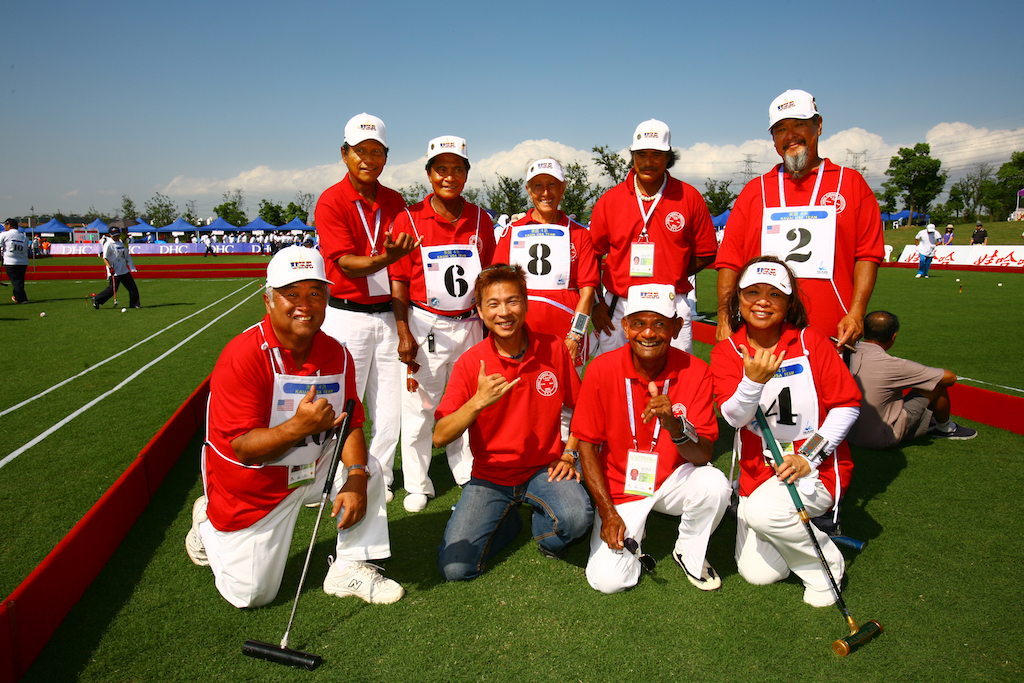 KAUAI- USA TEAM (USA)
A team of players mainly in their 50s and 60s from Kauai, Hawaii. Daniel Nishiguchi (far left of front row, 63), a Japanese-American with 25 years of gateball experience, formed the team about one year ago to popularize the sport in his country.
PARAGUAY A (PRY)
A team of ethnic Japanese in their 60s and 70s from the capital city Asuncion. These first-generation Japanese retirees have more than 20 years experience of gateball and enjoy playing three or four times a week.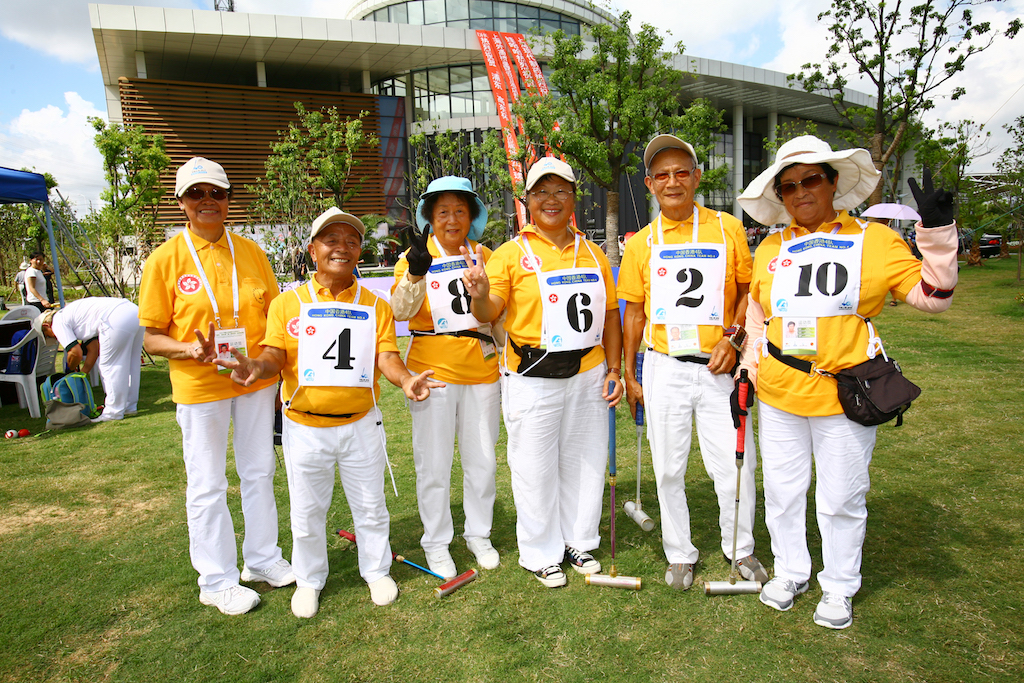 HONG KONG, CHINA TEAM NO.4 (HKG)
A team of players in their 60s and 70s from Kowloon who average seven years of gateball experience. Nearly all retirees, they play every day for health as well as social interaction.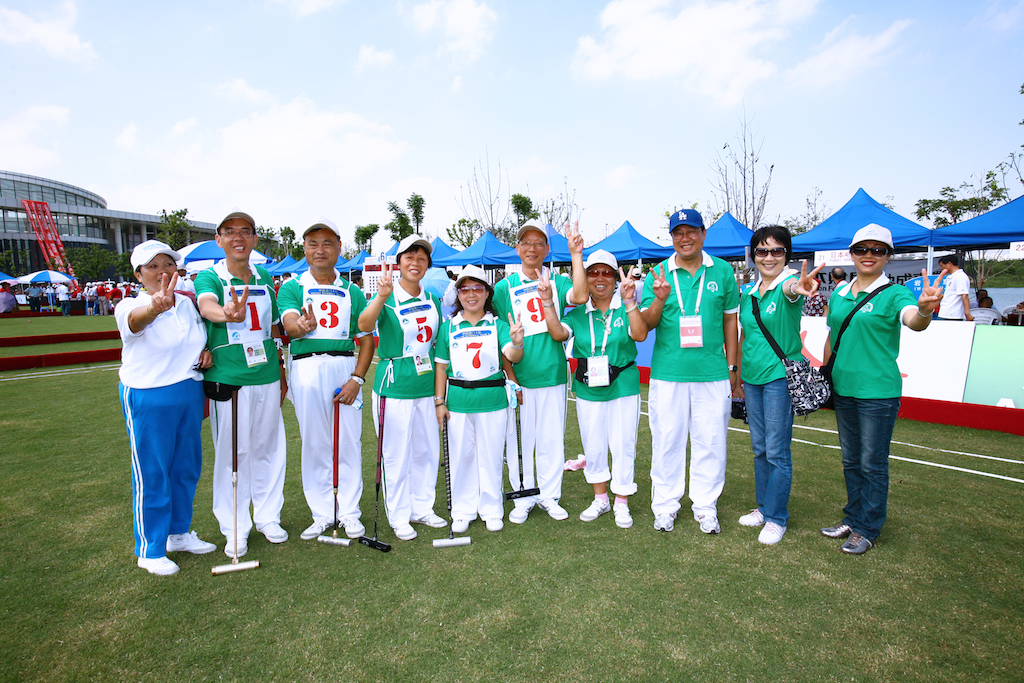 MACAU GATEBALL TEAM 4 (MAC)
A team of players in their 60s entering these Championships for the second time. All players are retirees who train four times a week. "International competitions help us to improve our skills."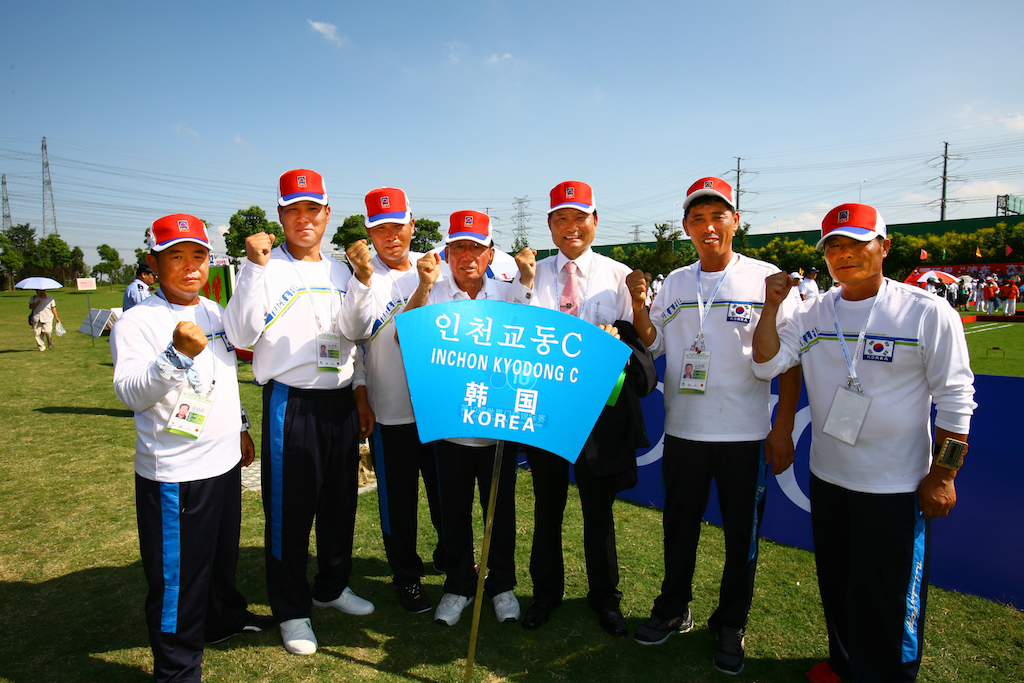 Incheon Kyodong C (S. Korea)
A team of players in their 40s and 50s from Yeongjong Island near Incheon International Airport. About half of the island's 2,300 population love gateball. The team have previously won international competitions.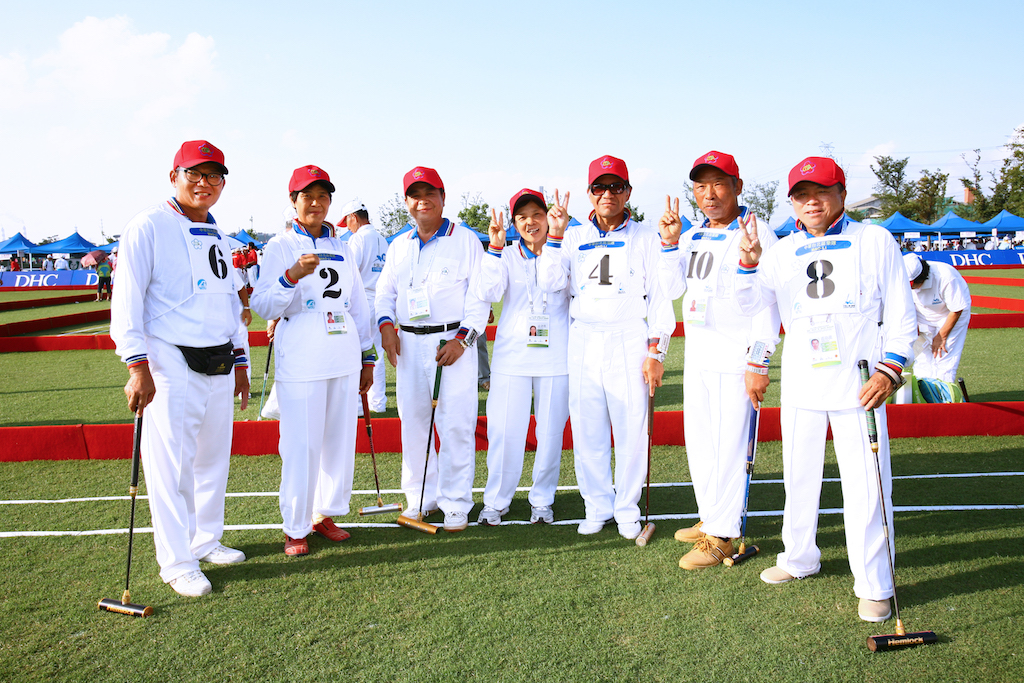 MAO-LI (TPE)
A team composed of players in their 50s and 60s from Miaoli County and neighboring Hsinchu County in north-west Taiwan. Includes players rich in experience such as being runners-up in the Taiwan National Championships.